Wow. It's been a ridiculously long time since I've been able to start a post with 'Event Coverage'. I feel like I've spent at least the last nine months living vicariously through others.
For the locals I'm preaching to the choir but to the out of towners; Ontario has been in some form of Covid-19 related lock down for a long time.
But all that is finally showing some sign of passing allowing local groups to hold small meets for now, and eventually larger shows later this summer.
Last Sunday, July 19th, I popped my head out of the sand to take in one of Toronto Hot Rod Kulture's summer gatherings.
These events, which started las year, are similar to Toronto Cars And Coffee events but with more of a hot rod focus.
Held in Scarborough they're also a little closer to home for east siders like myself.
Chill by nature, these meets bring out a nice variety of cars, bikes, and people. It's the type of meet that reminds me why I like the Ontario scene so much.
While we have some non sensical cruft (Takeovers can go straight to hell) the majority of us just love cars, period.
We also want to be around similarly minded people without drama and don't need any form of trophy or awards. Just a good few hours looking at cars.
For a father like myself events like this are perfect. A bunch of awesome in short order, leaving the rest of the day to wherever the wind may take me.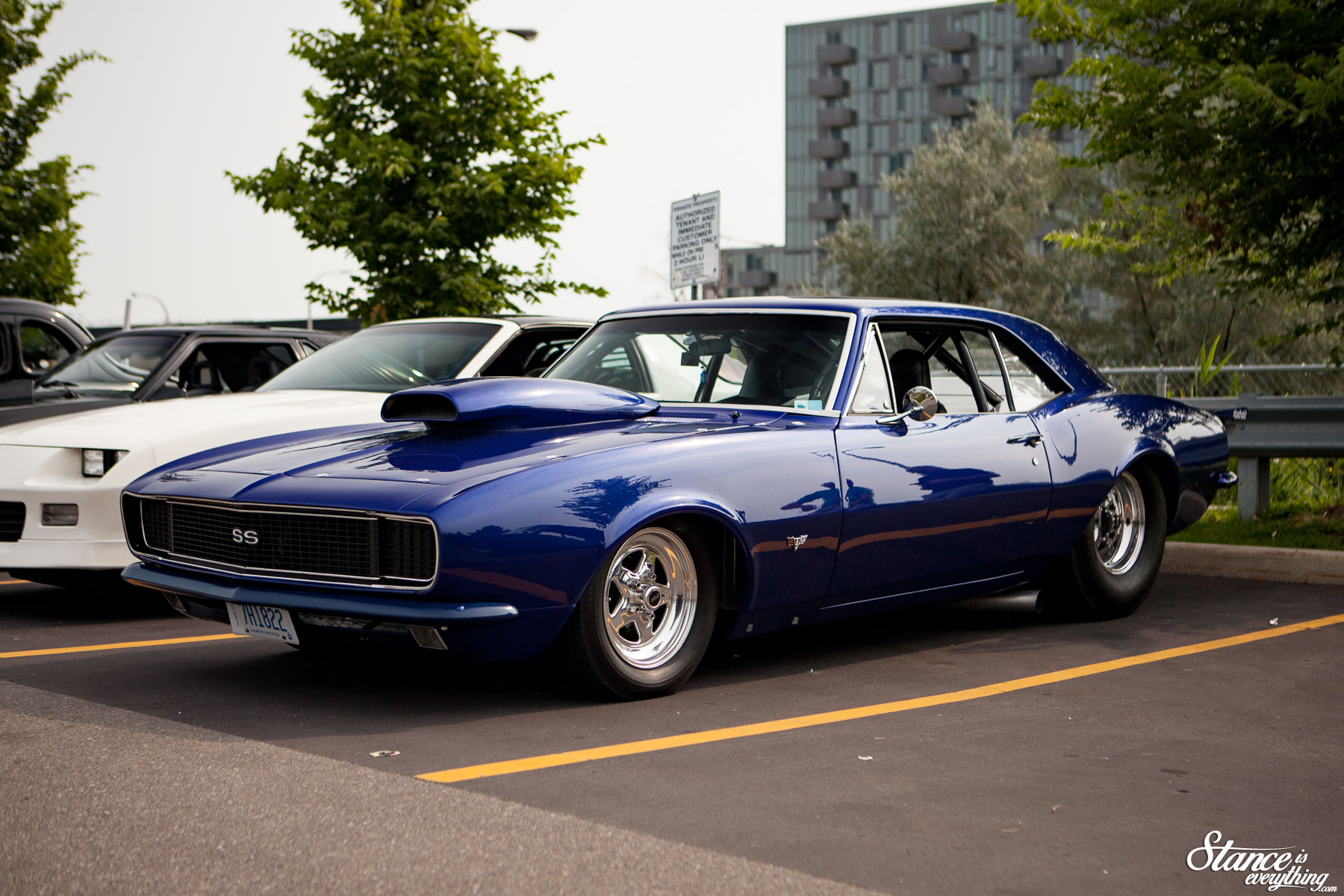 Living up to 'awesome' is this 67 Camaro. I am on a real pro street kick lately so I am certainly here for everything this car is about.
Mopar fans fret not, you were all well represented as well. This GTX pulled in as I was leaving so I'll be sure to get more photos of it next time.
The Hemi did sound pretty damn serious if you're wondering.

I've seen this truck progress over the years from the above to the below.
It currently features a rather tidy turbo setup stuffed into a relatively small engine room.
It's nice to see a nearly ten year long commitment to iterating upon a vehicle. I'm sure it's quite the ride now.
What would a meet like this be without a small amount of engine porn? I'm always looking for engine bay inspiration for my own project.
Speaking of inspiration. This truck is no stranger to the site. I've posted it numerous times before from Motorama to Cars 'N Coffee.
The tidy engine bay and flawless interior are quite elegantly done.
However, the most recent stand out for me has to be the wheels. They are made by Augment Wheel Company.
Essentially they are bespoke aluminum wheels made to look like steel wheels. Previously the car stat on Detroit Steel Wheels in candy red.
The Detroit Steel hoops looked good too but there's just no denying this new set completely transform the look of the truck.
The owner Richie was great to talk to about a few things I had questions on with my build and wildly enough he owned the e36 that was one of the first cars ever posted on this site.
Neat.
Toronto Hot Rod Kulture plans to do more of these events throughout the rest of the year so be sure to follow them on Instagram for the next one.